[ Friends Only ]
[ comment to be added ]

[ a new journal ]
[ a new year ]
[ a new me ]
Formerly known as
brokenimagary
13 Reasons Why.
...13 Reasons Why.
I finished the book. I had to. I needed to know why she killed herself. I needed to know what pushed her so far over the edge, so far past hope and self preservation. I needed to know what events took place and why the snowball effect kept rolling.
Never in all my years of reading have I been so emotionally driven and touched. No, I don't think touched is the right word. Distraught? Grief Stricken? Empty? Those may be better words, I believe. The book along with the audio clips, along with personal issues and memories. The book, along with the audio clips, along with his suicide and my own blame... I can't help but wonder did he reach out for help? Did he leave a note, a message, anything?
It's been years since I've thought about him. While writing the very sentence before this... I had to look through my yearbook. I needed to know his full name. Derek Parson. Sophomore. He worked (study hall?) in the library. That's where we met. We became friends, though I'm not sure how. Or why.
All I know is that I adored you. I wanted to be your girlfriend, to be the person you talked to.
I went looking through my yearbook specifically his inscription. It meant the world to me at the time. Now that I reread it, it means the world to me now.
His picture... Page 89, first photo in the second row. It took some searching at first, but now... Now I'll never forget where he is. Or, more specifically, where he can be found.
Summer came and went. The first day back, after home room, he and I caught each others eye, but said nothing. Not a "Hi" not a "Hey!" not a word. I didn't think anything of it, until the next day. I didn't see him. I didn't see him the day after that, or the day after that. I never would. The second day of school, we got a notice what happened. I remember feeling like if I had said something, would he be around?
Then... Tiffany Neace. She too committed suicide. Let me dig out the year book for that one. I don't remember when, nor does it say when... But she too killed herself. She and I never got a long. One moment we were friends, the next we hated each other. I remember my circle of friends never believing her stories about her abusive aunt and stuff. I think she and Derek were connected some how. I don't remember...
And then there is Shawn. Though he didn't commit suicide, he did die. Though I know I didn't have much to do with his life, I hate feeling like he died angry, hurt, and disappointed in me. Or, worse... had he forgotten about me?
Sometimes I think too much, and as a result, I make myself sick. I know it's not possible for me to have a direct (or indirectly) cause in someone's death, but... It still lingers. The what if. The unanswered question of "if" will always be in my head.
What if I asked for his number, so I could keep in touch?
What if I said hello?
What if I wasn't skeptical about her abuse?
What if I never stopped talking to him?
What if...
"What if" is one question that I can never answer... And never will be answered by them...
13 Reasons Why.




01) Are you currently in a serious relationship?
A.

02) What was your dream growing up?
A.

03) What talent do you wish you had?
A.

04) If I bought you a drink what would it be?
A.

05) Favorite vegetable?
A.

06) What was the last book you read?
A.

07) What zodiac sign are you?
A.

08) Any Tattoos and/or Piercings? Explain where.
A.

09) Worst Habit?
A.

10) If you saw me walking down the street would you offer me a ride?
A.

11) What is your favorite sport?
A.

12) Do you have a Negative or Optimistic attitude?
A.

13) What would you do if you were stuck in an elevator with me?
A.

14) Worst thing to ever happen to you?
A.

15) Tell me one weird fact about you.
A.

16) Do you have any pets?
A.

17) What if i showed up at your house unexpectedly?
A.

18) What was your first impression of me? (hmmm...careful!)
A.

19) Do you think clowns are cute or scary?
A.

20) If you could change one thing about how you look, what would it be?
A.

21) Would you be my crime partner or my conscience?
A.

22) What color eyes do you have?
A.

23) Ever been arrested?
A.

24) Bottle or can soda?
A.

25) If you won $10,000 today, what would you do with it?
A.

26) Would you ever hug a perfect stranger?
A.

27) What's your favorite place to hang at?
A.

28) Do you believe in ghosts?
A.

29) Favorite thing to do in your spare time?
A.

30) Do you swear a lot?
A.

31) Biggest pet peeve?
A.

32) In one word, how would you describe yourself?
A.

33) Do you believe/appreciate romance?
A.

34) Do you have "one of those faces" (i.e. you look horribly familiar to everyone)?
A.

35) Do you believe in God?
A.

36) Will you repost this so I can fill it out and do the same for you?
A.
If you're on my friends list, I want to know 36 things about you. I don't care if we never talk, or if we already know everything about each other. Short and sweet is fine ... you're on my list, so I want to know you better!


new.vitality@gmail.com

You can thank spam for this (and all other) email changes. *tear*
So, I do this all the time, I swear I've had like 300 email addresses. It's changed once again.
Current Music:

APC - Thinking of You
Join This Brand New Rating Community
We base our votes on more than just looks...
This community has daily, weekly and monthly themes.
Join
not_all_beauty
today!
(
My App because I'm witty and bored
Collapse
)
---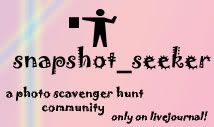 (
My App
Collapse
)